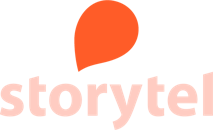 At Storytel we believe that powerful stories add an extra dimension to life. Storytel is one of the world's largest audiobook and e-book streaming services and offers more than one million titles on a global scale and in 28+ markets. Our vision is to make the world a more empathetic place with great stories to be shared and enjoyed by anyone, anywhere, anytime.
About the Role
This role will include coordination of in-house marketing productions, as well as coordination of agency production, together with the Global campaign manager. You will also ensure we handle all versions of assets and translations and act as project manager for selected projects.
Day-to-day work is to coordinate our designers and design projects efficiently to ensure we deliver all our projects according to plan. You will work closely with design and performance marketing colleagues and many stakeholders locally and globally within Storytel.
Besides internal collaborations, you will also be in close contact with advertising, translation and media agencies. With you, the marketing machinery will run as smoothly as it needs to!
About the Team
You will be an essential piece of the puzzle in the Marketing creative team. The team contains 10 people in design, copywriting, project management, and IP partnerships. We always strive to combine long- and short-term goals and keep the creative flag high. We build the Storytel brand with the superpower of creativity and excellent content.
About You
Some years of experience in a marketing department
Relevant education in marketing and communication
On a professional level in English, both written and spoken
Collaborative, both with internal and external stakeholders
Structured, proactive and always solution-oriented
To thrive in this role, you enjoy work that combines routines with flexibility. And lastly, it's essential for us that you are not afraid of asking questions and are used to finding new ways to solve problems.
What we offer
Storytel offers a friendly, entrepreneurial and fast-moving work environment where new ideas and creativity are welcomed. At Storytel we trust our employees and believe in their autonomy, we like doing things in new ways and questioning old methods. The Storytel culture - characterized by being welcoming and helpful - is important to us. We highly believe in giving responsibility and having people grow alongside it.
We offer flexible working hours, remote working possibilities and flexible public holidays for people to celebrate what they truly believe in. And of course – you get unlimited access to audio and ebooks from our service!
Does this sound like an opportunity for you? If you feel like Storytel is a place where you could thrive, let us know and we will contact you as soon as possible.
The application process for this role will be closed Friday, December 2nd. 
Workplace
The Storytel culture in 3 words?
Trusting, Collaborative, Innovative.

Number of orange headphones?
Thousands.
Times we celebrate?
Whenever we have something to celebrate. It could be the launch of a Storytel Original, a great cross functional collaboration or a housewarming party. We like to celebrate - preferably with cake.
About Storytel
Storytel is one of the world's leading audiobook and ebook streaming services and offers unlimited listening to consumers in 25+ markets. Storytel is a digital platform provider as well as a comprehensive publishing group. The streaming business area offers subscriptions for audiobooks and e-books under the Storytel and Mofibo brands. Storytel's publishing business area is carried out through the publishing houses Norstedts, Massolit, StorySide, Printz Publishing, People's Press, Rabén & Sjögren, B.Wahlströms, Gummerus, Lind & CO and more. Storytel operates in 25+ markets around the globe and is headquartered in Stockholm, Sweden.
Already working at Storytel?
Let's recruit together and find your next colleague.