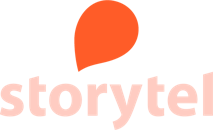 At Storytel we believe that powerful stories add an extra dimension to life. Storytel is one of the world's leading audiobook and eBook streaming services and we offer unlimited listening to consumers in 28+ markets. Our vision is to make the world a more empathetic place with great stories to be shared and enjoyed by anyone, anywhere, anytime. We are now looking for a Business Controller to join the team!
About the team and the role
You will join our Controlling team and report to the Head of Group Controlling. The team consists of controllers, M&A and Treasury, and is part of the Finance function. We exist to enable Storytel to realise its long-term goals and vision by partnering with the organisation and supporting decision-making with sound financial analysis.
Within the Controlling team, you will be a Business Controller dedicated to one of our functions or business segments and responsible for analysing and driving financial and operational performance. You will work closely with the designated business leaders to support the teams, evaluate strategies, and support our management team with valuable insights. Given the Controlling team's central role within the group, you will have a vast network and many stakeholders in the organisation. In the international environment at Storytel you will also strive to improve workflows and processes that can help Storytel grow efficiently.
What you will do
Work closely with the management team to support Storytels overall objectives
Own and drive one of our key financial processes around planning and reporting
Identify and drive improvement initiatives for the company
Evaluate commercial potential and business opportunities
Follow up, evaluate and make recommendations on financial performance and KPIs
Ad-hoc analysis and support with various business cases
About You
3-5+ years of relevant experience in a Business Controller role
University degree in Business Administration or equivalent
Professional level of English, both written and spoken
Strong analytical mindset and skills and enjoy working with data and people
High communicative skills when presenting complex analyses to various stakeholders
Being both a team player and a driving force in your own area, and being able to identify and initiate various projects and tasks
What we offer
Storytel offers a friendly, entrepreneurial and fast-moving work environment where new ideas and creativity are welcomed. We like doing things in new ways and questioning old methods. The Storytel culture - characterised by being welcoming and helpful - is important to us. We believe in giving responsibility and having people grow alongside it. And of course - you get unlimited listening to audio and eBooks from our service!
Does this sound like you? If you feel like Storytel is a place where you could thrive, let us know and we will contact you as soon as possible.
Team

Finance

Role

Business Controller

Locations
Workplace
The Storytel culture in 3 words?
Trusting, Collaborative, Innovative.

Number of orange headphones?
Thousands.
Times we celebrate?
Whenever we have something to celebrate. It could be the launch of a Storytel Original, a great cross functional collaboration or a housewarming party. We like to celebrate - preferably with cake.
About Storytel
Storytel is one of the world's leading audiobook and ebook streaming services and offers unlimited listening to consumers in 25+ markets. Storytel is a digital platform provider as well as a comprehensive publishing group. The streaming business area offers subscriptions for audiobooks and e-books under the Storytel and Mofibo brands. Storytel's publishing business area is carried out through the publishing houses Norstedts, Massolit, StorySide, Printz Publishing, People's Press, Rabén & Sjögren, B.Wahlströms, Gummerus, Lind & CO and more. Storytel operates in 25+ markets around the globe and is headquartered in Stockholm, Sweden.
Already working at Storytel?
Let's recruit together and find your next colleague.