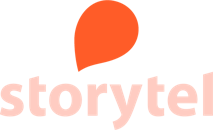 At Storytel we believe that powerful stories add an extra dimension to life. Storytel is one of the world's leading audiobook and ebook streaming services and we offer unlimited listening to consumers in 25+ markets. Our vision is to make the world a more empathetic place with great stories to be shared and enjoyed by anyone, anywhere, anytime. We are now looking for an Editor to join the team! 
This is an interim position during a parental leave: the employment will start preferably on December 1st 2022 and last at least until October 31st 2023.
About the Role and the Team
In this full-time role you will be working on the forefront of commercial audio storytelling, exploring new story ideas and initiating publishing projects in our key genres. You will be coordinating individual publishing projects from start to finish. This includes project planning and scheduling, commissioning freelancers (translators, editors, graphic designers), negotiating contracts with them and monitoring their work. You will also find and assess stories and story ideas/concepts together with your colleagues in the team, and you will give feedback to writers on their ideas.
As Editor, you will be part of a Helsinki-based editorial team of four people, working passionately on top-level audio storytelling, including our exclusive Storytel Original series. The team works on a wide-ranging catalogue of commercially appealing content, encompassing different genres of fiction, nonfiction, podcasts and stories for children and young listeners. You will be reporting to the Nordic Publishing Manager and working closely with colleagues in our Publishing and Commercial organization.
About You
To be successful in this role we believe that you have:
Fluent or on a professional level in both English and Finnish. You will be evaluating scripts written in Finnish and giving feedback to Finnish authors.
A commercially-oriented mindset
University studies or similar education, in the relevant field
Minimum 2 years experience from the Publishing Business, preferably including Audio publishing
Familiarity with the different areas of the Publishing Business and knowhow on business practices.
Experience and knowledge of how to negotiate and set up Business Contracts and Agreements
We also believe that you a team player and enjoy building relationships, you take initiative and like to brainstorm for ideas together with the team. You follow trends closely, are interested in new forms of storytelling and have a good eye for commercial quality and how to think from a customer's perspective.
What we offer
Storytel offers a friendly, entrepreneurial and fast-moving work environment where new ideas and creativity are welcomed. At Storytel we trust our employees and believe in their autonomy, we like doing things in new ways and questioning old methods. The Storytel culture – characterized by being welcoming and helpful – is important to us. We don't believe in hierarchy and micromanagement; we highly believe in giving responsibility and having people grow alongside it.
We offer flexible working hours and flexible public holidays for people to celebrate what they truly believe in. And of course – you get unlimited access to audio and ebooks from our service!
This role will be located in Helsinki. This is an interim position during parental leave: the employment will start preferably on December 1st 2022 and last at least until October 31st 2023.
Does this sound like an opportunity for you? If you feel like Storytel is a place where you could thrive, let us know and we will contact you as soon as possible.
Team

Role

Editor

Locations

Helsinki
Workplace
The Storytel culture in 3 words?
Trusting, Collaborative, Innovative.

Number of orange headphones?
Thousands.
Times we celebrate?
Whenever we have something to celebrate. It could be the launch of a Storytel Original, a great cross functional collaboration or a housewarming party. We like to celebrate - preferably with cake.
Read more about what it's like to work at Storytel here!
About Storytel
Storytel is one of the world's leading audiobook and ebook streaming services and offers unlimited listening to consumers in 25+ markets. Storytel is a digital platform provider as well as a comprehensive publishing group. The streaming business area offers subscriptions for audiobooks and e-books under the Storytel and Mofibo brands. Storytel's publishing business area is carried out through the publishing houses Norstedts, Massolit, StorySide, Printz Publishing, People's Press, Rabén & Sjögren, B.Wahlströms, Gummerus, Lind & CO and more. Storytel operates in 25+ markets around the globe and is headquartered in Stockholm, Sweden.
Already working at Storytel?
Let's recruit together and find your next colleague.